Bright Smile Dental Veneers
If you desire a quick solution for a dazzling "Hollywood" smile, Dr. de la Paz at Bright Smile Dental can help.
While tooth bonding can fix some chips, uneven or misshapen teeth, gaps, and areas of discoloration, the end-result can be limited.
Orthodontics can fix crooked, misaligned teeth and gaps, but the results require a lot of time.
Teeth whitening improves discolored teeth but may not provide the results you are looking for, especially if you have chipped teeth or gaps.
So, what is the one-fix quick solution for all your problems?
Dental veneers.
What are dental veneers?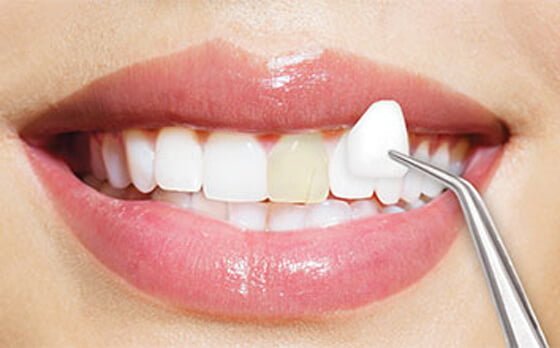 Dental veneers are custom-made shells of porcelain that cover the front of your teeth. They are the perfect solution for patients looking to completely redesign their smile with immediate results. Veneers bond to the front of your teeth and offer a dramatic cosmetic solution. They correct many flaws, including discoloration, gaps, chips, stains, and misshaped or crooked teeth, while also covering worn-down and uneven teeth.
These porcelain veneers resist stains and mimic the light-reflecting properties of natural teeth.
One tooth, several teeth, or all the teeth can be treated at the same time, depending on a patient's needs.
What issues can dental veneers fix?
There are several issues veneers can address. The most common issues include:
Discolored teeth. Whether your issues stem from root canal treatment, medication (such as tetracycline), excessive fluoride, fillings, or other causes, veneers can help.
Worn-down teeth
Chipped or broken teeth
Misaligned, irregularly shaped, or uneven teeth. This includes bulges and craters in teeth.
Gaps between teeth
With dental veneers, what are the advantages?
Aside from the positive aesthetic advantages, porcelain veneers offer other advantages, including:
Natural tooth appearance
Porcelain is stain resistant
The color can be chosen, allowing darker or stained teeth to appear whiter and creating a seamless, natural look when only a few teeth are treated
Veneers do not require the extensive shaping crowns require
Veneers offer an aesthetic pleasing yet strong alternative to other options
Gums tolerate porcelain very well
What is the process for dental veneers?
The first step for dental veneers is a consultation. During this visit, Dr. de la Paz will perform a thorough examination and evaluation to ensure you are a good candidate for veneers. If he feels you are an appropriate candidate, he will discuss the procedure and potential limitations. He may also take dental x-rays or make impressions of your teeth and bite.
Dental veneers usually require three appointments with your dentist. The first is a consultation, and the next two are for making and applying the veneers.
After examination and diagnostic testing, the second step begins the process. This includes removal of approximately 0.5 millimeters (less than 0.2 inches) of enamel from your tooth surfaces. This is about the same thickness of veneers. Dr. de la Paz will discuss with you if local anesthetics are needed to assist you with comfort.
Next, an impression is taken. This is used to create your veneers.
Once completed by the lab and verified by Dr. de la Paz, your custom-made veneers are ready for bonding. Before application, Dr. de la Paz will verify the fit and color. If not satisfied, he can adjust the shade of the cement for the most natural look or trim them as needed.
After your teeth are properly cleaned and polished and Dr. de la Paz is sure of the application, he will apply an etching gel to your teeth. This gel creates a rough surface the veneers can bond to. A bonding agent is then applied, and the veneer is placed. A special light beam may then be applied to harden it. Afterward, excess materials are removed, and final adjustments are made.
You may be asked to return for a follow-up visit to ensure placement is good and your gums are responding appropriately.
If you are interested in dental veneers, Call us today at (253) 475-0262 Or Schedule An Appointment Online for a consultation.